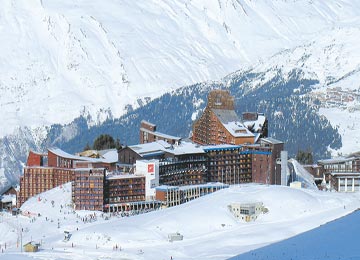 Resort Info
37 slopes
77 slopes
137 slopes
12 slopes
Alt. 3250 m
Alt. 1600 m

Cross-country skiing :
34 km slopes

Nearest Airport :
Lyon (236 km)

Nearest Train Station :
Bg-st-maurice (14 km)
Children :
The ESF snow kindergarten offers ski lessons to children aged 3 years and over.
In Arc 1600, "La Cachette" nursery welcomes children aged 4 months-12 years.
In Arc 1800, the "Mini-Club d'Arc" nursery welcomes children aged 1-8, as well as an introduction to skiing for children aged 3 years and over.
In Arc 2000, "Les Lanchettes" nursery welcomes children aged 18 months-6 years, as well as offering an introduction to skiing.
Home page > Search Alps - Savoie > Les Arcs 2000
Les Arcs 2000
1600-3250 m
France - Alps - Savoie
The prices shown exclude the booking fee (£15-35) which will be added at a later stage in the booking process.
Located in the heart of the Tarentaise, on the edge of the Vanoise mountain range, LES ARCS is an excellent all-round ski resort split into four centres (linked by free shuttle buses) amongst which are Arc 1600-Pierre Blanche, Arc 1800 and Arc 2000.
ARC 2000 is located at the foot of the Aiguille Rouge and is ideal for families. Like Arc 1600 and Arc 1800 it is a car free resort (parking outside the village). LES ARCS offers an impressive variety of terrain including some of the longest descents in the Alps and a very attractive area of woodland runs.
Other activities
LES ARCS domain offers 210km of slopes
PARADISKI domain links La Plagne and Les Arcs: 425km of slopes
6 day lift passes: proceed for rates or contact our UK reservations team on 020 7371 6111
Cross-country skiing
LES ARCS offers free access to 34km of trails.
Practical information
LES ARCS is accessible by coach from Bourg-Saint-Maurice train station. There are also free outdoor and payable underground car parks available throughout the resort. The resort is well-equipped, and offers all necessary amenities incluing local shops, bars and restaurants, doctors, physios and pharmacies.
Please note that the information provided on these pages is intended for guidance purposes only and is not contractual. For the most recent and up to date resort information (especially children's facilities and lift passes prices), please contact the local tourist office.