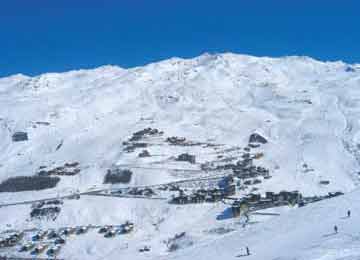 Resort Info
31 slopes
117 slopes
134 slopes
56 slopes
Alt. 3200 m
Alt. 1850 m

Cross-country skiing :
28 km slopes

Nearest Airport :
Lyon (183 km)

Nearest Train Station :
Moutiers (27 km)
Children :
In La Croisette, a nursery offers childcare for very young children aged between 3 and 30 months, as well as slightly older children aged between 31 months and 5 years. The Mini-Club Village des Piou-Piou offers childcare for children aged 4 years and over, as well as group ski lessons with the ESF. In the Bruyeres area of the resort, a Mini-Club offers childcare for ages 31 months to 5 years, and the Mini-Club du Village des Piou-Piou again offers group ski lessons for children aged 4 years and over with the ESF.
Home page > Search Alps - Savoie > Les Menuires
Les Menuires
1850-3200 m
France - Alps - Savoie
The prices shown exclude the booking fee (£15-30) which will be added at a later stage in the booking process.
Centrally located in the 3 Valleys, LES MENUIRES is made up of a mix of purpose-built blocks and newer traditional style accommodation and is divided into several sub-resorts (La Croisette, Les Sapinieres, Reberty, Les Bruyeres...). The resort stretches out over a huge variety of sunny and snowy slopes and makes an ideal base for intermediate skiers and families. Les Menuires offers ski-in/ski-ot access throughout the resort.
Other activities
As part of the expansive Three Valleys ski domain, Les Menuires offers access to 600km of downhill slopes.
The local Le Domaine Menuires/Saint-Martin-de-Belleville ski domain boasts 160km of ski slopes as well as a snowcross park.
For more information on lift passes, contact our UK reservations team on 020 7371 6111
Cross-country skiing
Les Menuires offers 28km of cross-country trails, located in the Belleville valley area. Access free of charge
Practical information
Les Menuires is easily accessible by bus or by taxi from Moutiers train station (27km).
Les Menuires is a well-equipped resort and offers all necessary amenities, including a mediacal centre, dentist, and pharmacy, cash machines and a laundrette plus assorted bars, resturants and local shops.
Please note, all information provided on these pages is intended for guidance purposes only and is not contractual. For the most recent and up to date resort information (especially for children's facilities and lift passes prices), contact the local tourist office.