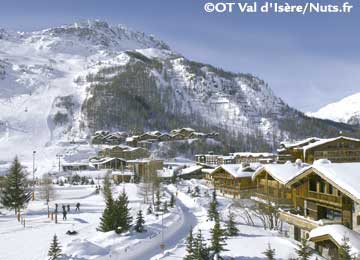 Resort Info
26 slopes
40 slopes
68 slopes
20 slopes
Alt. 3450 m
Alt. 1850 m

Cross-country skiing :
23 km slopes

Nearest Airport :
Genève (180 km)

Nearest Train Station :
Bg-st-maurice (30 km)
Children :
A range of facilities for children are available throughout the resort, including the "Village d'enfants" in the centre, which is suitable for ages 18 months to 13 years, the ESF ski school in the resort centre and La Daille, which offers an introduction to skiing for children aged 3 to 5 years in their snow kindergarten. £
Home page > Search Alps - Savoie > Val d'isere
Val d'isere
1850-3450 m
France - Alps - Savoie

The MONTANA IZIA chalet is located 10 min. on foot from the resort centre and sits at the foot of the slopes. This residence is made up of 54 apartments [...]
Discover

the week commencing
£ 1487,87
instead of £ 1653

The RESIDENCE MONTANA SKADI in Val d'Isere is a 5 min. walk to the centre of Val d'Isere and 50m from the free shuttle bus taking skiers to the slopes. [...]
Discover

the week commencing
£ 1487,87
instead of £ 1653
The prices shown exclude the booking fee (£15-30) which will be added at a later stage in the booking process.
VAL D'ISERE is known worldwide for its skiing and regularly hosts World Cup Alpine events in December. This popular resort is divided into 2 areas made distinct by their architecture, Val-d'Isere Centre, developed around the old village and displaying its rustic charm, and its eastern part made up of modern high rise buildings. The resort's superb facilities and the extensive slopes shared with Tignes will seduce seasoned skiers looking for a challenge.
Other activities
As part of the expansive Val d'Isere/Tignes ski domain, Val d'Isere offers access to 300km of slopes.
Cross-country skiing
The Val d'Isere/Tignes domain offers 40km of cross-country trails, 23km of which are in Val d'Isere itself.
Practical information
Val d'Isere is accessible by coach or by taxi from Bourg-Saint-Maurice train station (30km), from Geneva (180 km), Chambery (130 km) and Lyon/St-Exupery (220 km) airports.
The resort is well-equipped and offers a wide range of modern facilities and amenities: doctors, dentists, physios, phramacies, banks, cash machines, launderette, bars and restaurants, shops.
Please note: all information provided on these pages is intended for guidance purposes only and is not contractual. For the most detailed and up to date resort information, contact the local tourist office or tourist information services.