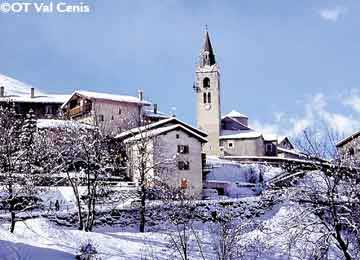 Resort Info
5 slopes
21 slopes
20 slopes
12 slopes
Alt. 2800 m
Alt. 1300 m

Cross-country skiing :
27 km slopes

Nearest Airport :
Turin (135 km)

Nearest Train Station :
Modane (24 km)
Children :
The villages that make up Val Cenis offer a wide range of childcare and childrens facilities for a wide range of ages:
In Lanslebourg, "Les P'tits Marrons" nursery offers outdoor activities as well as arts and crafts to children aged between 3 months and 6 years.
"Les Petits Loups" nursery in Lanslevillard welcomes children aged between 6 months and 6 years and offers ski lessons to children from 3 years. Also located in Lanslevillard, "Les P'tits Durs" welcomes children between 6 and 11 years during French school holiday periods only.
For small children, the ESF offers a snow kindergarden for children aged 3 to 5 years.
In Termignon: "Les Croes" nursery for children aged 1 to 6 years, and the ESF snow kindergarden for children aged 3-5 years.
Home page > Search Alps - Savoie > Val-Cenis
Val-Cenis
1300-2800 m
France - Alps - Savoie

LES VALMONTS DE VAL CENIS residence in Val Cenis is located at the foot of the slopes (ski back to door access - when sufficeint snow levels), 50m from [...]
Discover

the week commencing
£ 230,54
instead of £ 329

LES CHALETS DE FLAMBEAU residence in Val Cenis is located mid-way between the villages of Lanslebourg and Lansvillard. The residence sits at the foot of [...]
Discover

the week commencing
£ 720
instead of £ 800
The prices shown exclude the booking fee (£15-30) which will be added at a later stage in the booking process.
The three villages of Lanslebourg and Lanslevillard (linked by shuttle bus) and Termignon united to form the resort of VAL CENIS, the Haute Maurienne ski capital. The resort, situated on the French/Italian border, offers great views over the Vanoise National Park.
Other activities
Thanks to the resort's links with Termignon, Val Cenis offers 125km of ski slopes, as well as a snowpark.
For more information on lift passes, contact our UK reservations team on 020 7371 6111
Cross-country skiing
27km of trails to explore, access to which is free of charge.
Practical information
Val Cenis is accessible by coach from Modane train station (24 km).
Val Cenis is a well-equipped resort, and has a wide range of services and amenities available locally, including a medical centre, a post office, as well as a range of bars and restaurants and local shops.

Please note: the information provided on these pages is intended for guidance purposes only and is not contractual. For more detailed and up to date resort information (especially for the ski domain opening/closing dates), please contact the local Tourist Office.