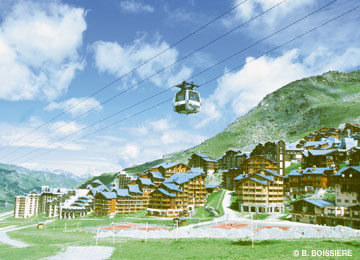 Nearest Airport :
Genève (159 km)

Nearest Train Station :
Moûtiers (37 km)
Children :
Val Thorens offers a range of activities especially for children, all in a secure, supervised environment. Activities include mountain biking, rollerblading, tennis lessons and tournements, swimming, trampolining etc.
Home page > Search Alps - Savoie > Val Thorens
Val Thorens
2300-3200 m
France - Alps - Savoie
The prices shown exclude the booking fee (£15-30) which will be added at a later stage in the booking process.
Located at the peak of the Three Valleys ski domain and surrounded by five glaciers, Val Thorens is Europe's highest ski resort (2300m).
This resorts benefits from sunny weather and offers spectacular panoramic views from the top of the resorts peaks.
This is a modern, mountain resort with a wide range of summer activities for visitors to enjoy.
Other activities
Val Thorens offers a wide range of summer activities including paragliding, summer skiing on the Péclet glacier, canyoning, rafting, fishing, mountain biking, a public swimming pool, archery, boules, and tennis.
The resort also offers visitors the opportunity to use a well-equipped fitness centre, where facilities include sauna, steam room, and aquagym, as well as a wide range of local shops and resturants, as well as a cinema and nightclub.
Practical information
Please note: all information provided here is intended for guidance purposes only and is not contractual. For the most recent and up to date resort information, contact the local tourist office.